You know what? I felt asleep at my computer desk again. When I'm back into this real cold world, it's already 3.33 am. I suddenly feel so isolated in this corner of the world. Anyway, my world these days are only solitude and is as cold as ice without precious love around. Well! I'm only human and just cannot imagine that I am truly living in this world all alone challenging and facing my life journey on my own through so many rough edges. I'm not afraid of the challenges but just feel that I am missing something doing it all alone.

So what I do really need now is just a precious hug really bad! Years passes and people do change. It's alright with me, but you know, I just cannot imagine this is all happening to even once a cheerful person like me. I must admit that it is really for real. Feel as though I am having a nightmare or in the movie "Twilight Zone". I realized that we are now living in a superficial world with less and less genuine caring and loving people as most of them are becoming more and more selfish and self-centered. What I cannot accept is I am referring to those people who are once closed to me especially my family members and the one closes to me. In fact, some of them even have the heart to swindle me and have betrayed me and in the end pretend not to know. This really scared me off ! I do honestly need a good hug badly!


Hugging is good medicine. It transfers energy, and gives the person hugged an emotional boost. You need four hugs a day for survival, eight for maintenance, and twelve for growth. A hug makes you feel good. The skin is the largest organ we have and it needs a great deal of care. A hug can cover a lot of skin and gives the message that you care. It is also a form of communication. It can say things you don't have words for it. The nicest thing about a hug is that you usually can't give one without getting one.

HUGS
There's something in a simple hug
That always warms the heart;
It welcomes us back home
And makes it easier to part.
A hug's a way to share the joy
And sad times we go through,
Or just a way for friends to say
They like you 'cause you're you.

Hugs are meant for anyone
For whom we really care,
From your grandma to your neighbour,
Or a cuddly teddy bear.

A hug is an amazing thing -
It's just the perfect way
To show the love we're feeling
But can't find the words to say.

It's funny how a little hug
Makes everyone feel good;
In every place and language,
It's always understood.

And hugs don't need new equipment,
Special batteries or parts -
Just open up your arms
And open up your hearts.


Jill Wolf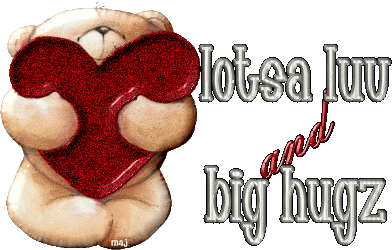 DesiComments.com
Hugs


The first and second commenter will get their Linky Love
Thanks for all your comments